This Scottsdale Golf Resort backyard space received the 'Alpentile Treatment' as we brought designer Wendy Lesueur's vision to life. Under the direction of Mark Coble, Coble Construction, this year-long project finished with a bang last month when we completed this absolutely stunning Oceanside Glasstile mosaic spa and sun-shelf.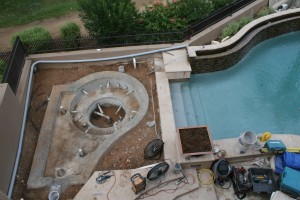 BEFORE

Our Process began months before, with a lot of prep work in the pool. Here Amy prepares for a bonded mortar bed. We actually bond the mortar with modified thinset for a superior bond strength.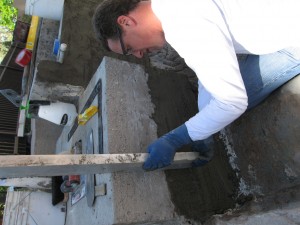 Here Luke screeds mortar for a perfectly flat tiling surface. These details add time and labor to the installation process, and truly differentiate the product we deliver.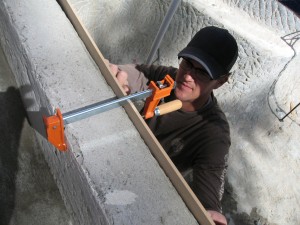 Luke prepares the fountain spillway for floating, we need to achieve a perfectly level surface for the water to spill over evenly.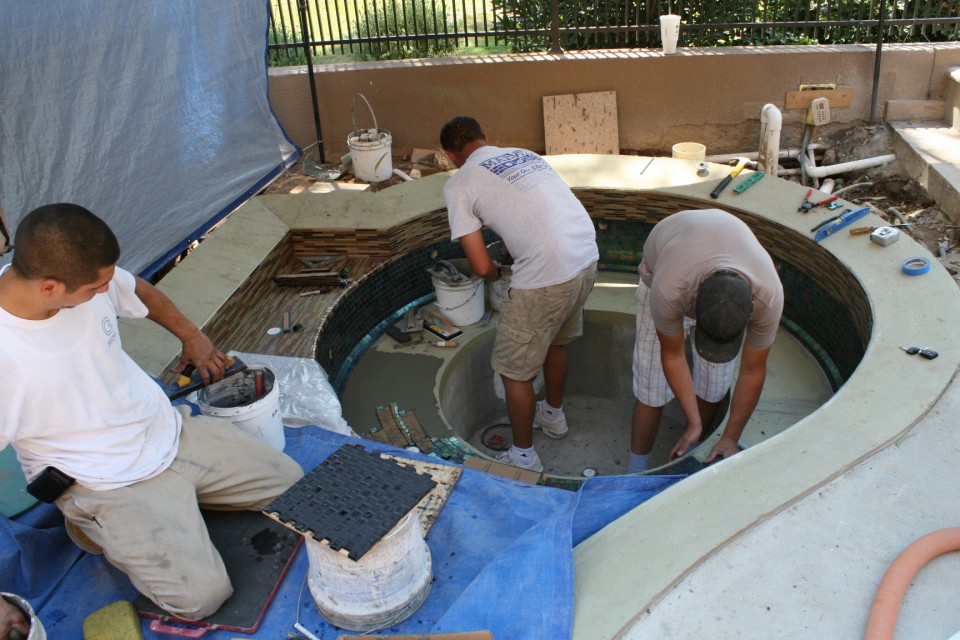 In this photo of the installation process in the spa, you can see our perfectly flat substrate which has been waterproofed and also has an anti fracture membrane applied. Luke and DJ are installing the radius tile on the bench, and Albert is back buttering the tiles with grout. This installation method results in the flattest, most even surface.

Our favorite moment in the installation is when we remove the
paper for our first glimpse of tile…

And here is the finished work – We also love to use Oceanside Glasstile's trim pieces, for a seamless and smooth transition in any pool/spa. The rounded corners feel and look great. The base of this spa is a custom fabricated medallion, in-house, and is a signature of Alpentile's installations.

Installation by Luke and Amy Denny, Alpentile
Tile: Oceanside Glasstile www.glasstile.com
Design: Wendy Lesueur
Build: Mark Coble, Coble Construction
Project Manager: Scott Mills, Coble Construction
Photography: Mike Woodall, www.michaelwoodall.com