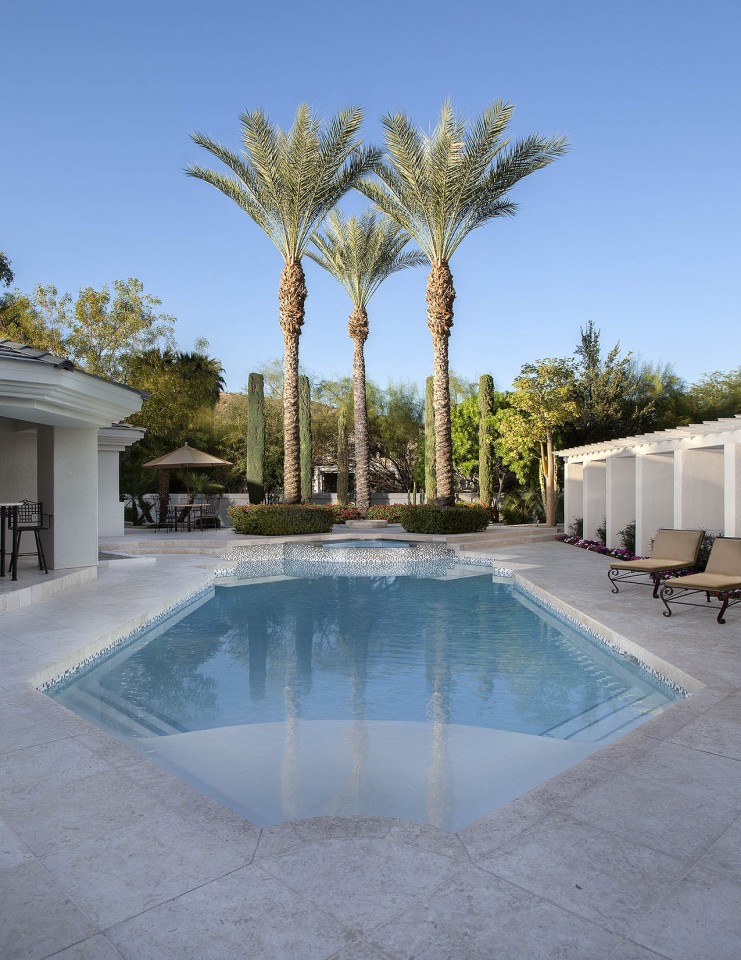 After sitting on the market for a considerable amount of time, this formal backyard needed some serious TLC before new owners would be able to enjoy it. What was once a beautiful, formal pool, had been left to bake in the desert sun, and several attempts at 'band-aid' repairs had taken their toll on the space. General Contractor and Designer Mark Zimmerman of
Desert Metropolitan
contacted us because he wanted to revitalize this high impact space with shimmering glass mosaics, bringing back its former splendor.
With a huge lot to contend with, budget was an important concern. At the same time, a raised spa at the end of the pool was a focal design point which needed to be highlighted. The client wanted to keep the formal elegance of the space in tact and we achieved that with a gradient blend from white to silver. We were able to show the client a number of options by using the fantastic gradient blend tool on Oceanside Glasstile's website
HERE

.

Additionally, we widened the spillway from the spa to pool to give a more significant overflow effect.
Stark white, cream, and silver are a beautiful backdrop to this aquamarine lap pool. Viewed from inside the home, this newly glamorous space beckons us to jump in and cool down…with a refreshing cocktail!
BEFORE:
Installation: Luke and Amy Denny